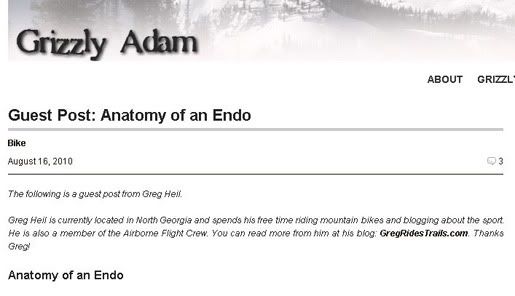 In this guest post entitled "
Anatomy of an Endo
," I artfully dive into the topic of the picture-perfect mountain bike crash, and my recent experiences with them. In the article I analyze 6 steps:
Cause
Effect
Damage Assessment
Reassessment of the Ride
Reassessment of Sanity
I like the way that I wove my personal experiences into this tongue-in-cheek definition post to create what I think came across as a humorous, entertaining piece.
Grizzly Adam of
EpicRiding.com
was kind enough to publish it for me. Epic Riding is a relatively large blog in the mountain bike niche, and as of February 13, 2011, 547 people "Like" Epic Riding's Facebook page.